Win 1: For the Solar Industry
We provide a non-biased platform through which local installers and national names can compete for customers based on price, product, experience, availability, and culture. As a bonus, we are reducing the soft costs of customer acquisition by educating customers on their options before bringing the installers' staff in to quote the project, meaning more money for the installer and less cost for the client.
How the process works: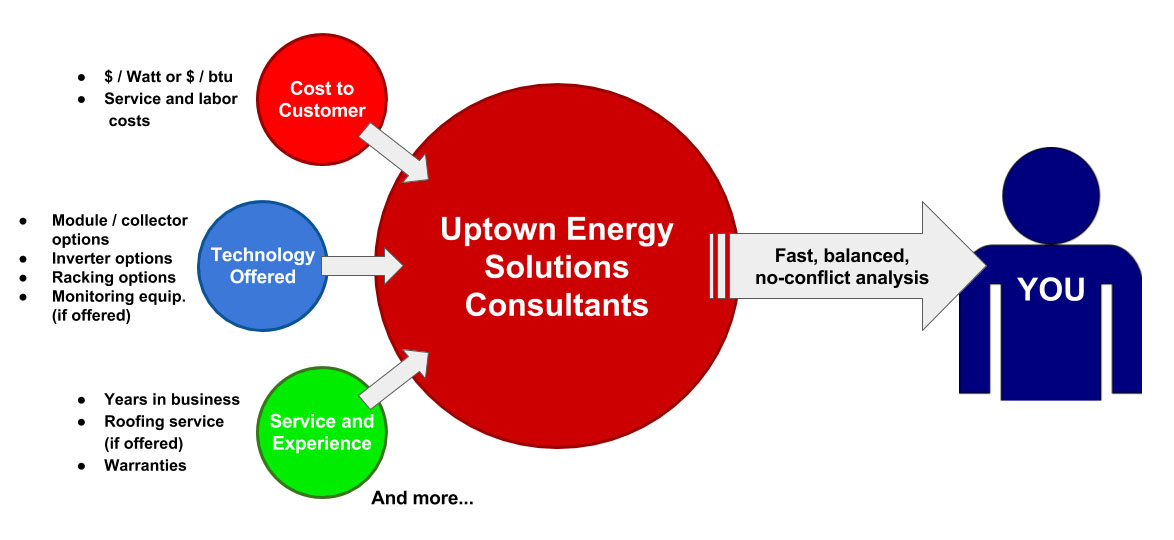 Uptown Energy Solutions prides itself on being an expert in the industry, most of all in regards to its knowledge of the leading solar installers and what makes each of their services unique. Our Solar Energy Consultant is proud to provide our clientele with accurate, up-to-date descriptions and comparisons of the installers which serve their area in order to help our clients make the best decision possible based on their priorities.
These are the factors that all solar customers will have to consider, whether it is with the help of a U.E.S. Solar Energy Consultant or on their own. The advantage we bring is our ability to clearly identify where each installer excels and keep customers focused on the key points that we in the industry know really matter. Whether it's from a large national brand or a local small business, we ensure our clients receive service tailored to satisfy their Solar Style.
For Installers
If you're curious why you haven't received any customers from UES, contact us to make sure we have your latest marketing materials and we can provide you with some feedback we've received about your company while sitting with our clients. In the meantime, you may also choose to complete our Solar Pro Profile online in advance to ensure we receive your updated information as soon as possible. And you should never be concerned, we only share the private information you provide us with our clients, never your competitors.
If you offer something truly unique that separates you from the competition, we want to make sure our clients know about it!